NileSwap - The leading NFT marketplace on the Hathor Network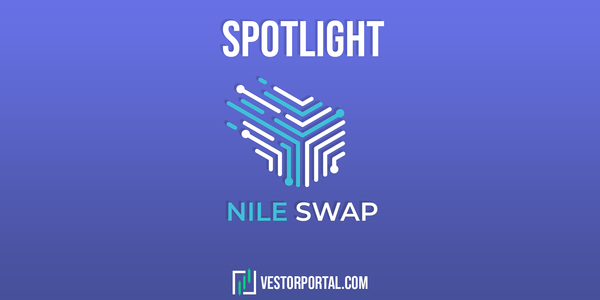 In this edition of Vestorportal.com Spotlight we will introduce you to NileSwap, a NFT marketplace built on the Hathor Network. Cynical, Co-Founder of NileSwap, told us all about the marketplace and gave us interesting insights on how NileSwap operates.
Since its launch, NileSwap has brought the most popular NFT collections to the Hathor Network community. One of them is their own - 'The Anubians'. Holders of Anubians get rewarded with airdrops of NileSwap's native token NST regularly.
---
---
What is NileSwap?
NileSwap is an NFT marketplace on the Hathor Network - It was originally funded via the sale of our NFT project 'The Anubians'.
We have one goal, to be the OpenSea of Hathor.
💡
OpenSea is a NFT marketplace on the Ethereum Blockchain and can be considered as the biggest NFT marketplace there is.
What is AnubisCoin?
AnubisCoin was originally minted by CyncialHTR as a test to see just how easy it was to mint a custom token from the Hathor Wallet.
It was then used for giveaways, community building, quiz prizes while we built our NFT collection.
How and where did the NileSwap team originally meet?
The team met via the Hathor Community price discussion telegram. The Hathor community has a lot of talented people in it. We were just very lucky to find a team that works so well together!
Why did you decide to rebrand from AnubisCoin to NileSwap?
It just felt right, AnubisCoin was created to serve no real purpose.
Forcing AnubisCoin to fit the NileSwap brand didn't make a lot of sense from a marketing perspective, NileSwap paired with NileSwap Token just sounds a lot more professional.
These thoughts paired with the unfortunate loss of some AnubisCoin that occurred on HathorSwap when it went into Beta so it was the opportune time for a rebrand while making sure nobody profited from ANU that didn't belong to them.
Since your core team consists of three members - how are decisions been made regarding changes to NileSwap?
Easily. We may only have three on paper, but we have two of the original Anubis team who are still with us as advisors. But at the end of the day the biggest seat at the NileSwap table is our community - they're the deciding force.
What do the tokenomics of NileSwapToken look like?
Our Tokenomics can be found in our Whitepaper.
What are the utilities that come with NileSwapToken?
NileSwap Token is really still in its infancy so at the minute not too much, but this will change.
For now a portion of NileSwaps revenue is rewarded to our users holding a minimum 100 $NST on NileSwap, when NileStarter launches NST will also give you voting rights on IDO projects.
Starting April 22 $NST will be rewarded to HathorSwap Liquidity Pool providers, meaning $NST holders can take advantage of both NST Rewards and LP rewards.
We plan to keep adding more use cases for NST throughout the year.
Where do you see NileSwap going in the future?
Bigger, Better, Faster, Nanos.
Our team is fully committed to making NileSwap the best it can be, we have lots of stuff planned in the short term like UI Updates & New Features.
When the time comes for NileSwap to be onboarded for Nano contracts we want to be ready! (Wen nanos?)
What is NileStarter?
NileStarter aims to be Hathor Networks IDO platform.
When Nano contracts inevitably arrive we want to have a place for start-ups to showcase their product to the Hathor Community, raise the funds they need and start building!
NileStarter will be a totally community governed project, if the community vote for a  project not to go through to the IDO stage then it wont happen.
Is there any ETA on the release of NileStarter?
Not yet, a placeholder website and V1 Whitepaper have been released but we are still working on the specifics in the background.
A successful IDO could raise a lot of money so its not something we want to rush, handling the amount of Hathor we do is not a task we take lightly.
Are there already projects interested in launching with NileStarter?
We haven't had any formal applications yet - our DM's are always open to enquiries!
Are there any new products/tools that NileSwap will offer in the near future?
No new products, but we have some cool tools in development that I unfortunately can't mention... yet.
What would you describe the core values of NileSwap and its team?
This is not something we've ever discussed but I think the team would agree on these three:
Trust.
We're here to serve the community and build something we all enjoy, without nano contracts everything the NileSwap team does is based on the trust that the community has given us.
Safety.
We take everything we do very seriously losing an NFT or what could be someones life savings in $HTR is not a failure we'd accept. Users safety and security is our top priority at all times.
Approachability.
I personally think we're one of the most approachable teams on Hathor if not in Crypto.
Our community focus is something I want to see stay the exact same as we grow, it's important to us that people can reach out and have their say on NileSwap or even just message for a chat.
Since you are not the only NFT marketplace on the Hathor Blockchain - Why should someone choose NileSwap?
What we have done and achieved speaks for itself really, we may take a little longer to bring out new features compared to our "competition", but our stats, users and track record speak volumes in comparison.
We don't condone users going elsewhere, we just ask they be careful.
---
How do you buy NST?
If you want to buy NileSwap's native token NST you can buy it on HathorSwap.
How do you buy HTR?
One of the easiest ways of buying HTR is on Kucoin.