Being a Developer in Crypto featuring Hyphin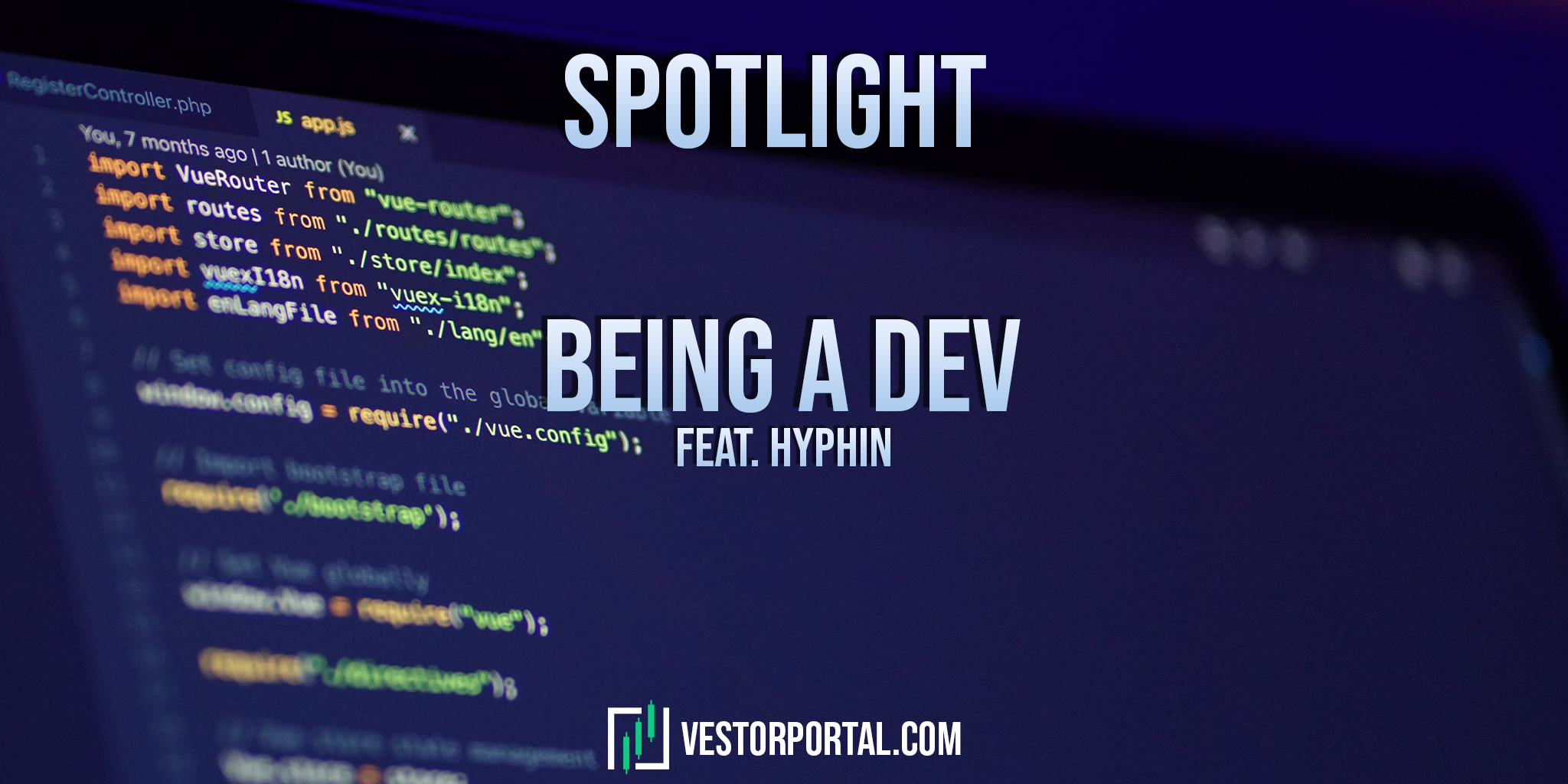 For this episode of Vestorportal.com's Spotlight we dug deeper on how to become a developer in the crypto space. A big 'thank you' goes out to Hyphin for answering 15 questions about his life as a developer within crypto world.
---
Tell us a little bit about yourself.
People know me as Hyphin, I'm a 21 year old software developer from Estonia. I spend most of my free time either watching charts, building applications or networking with other like-minded people.
How did you get into crypto?
I've been following crypto since ~2018 but never got into it myself as I had no disposable income at the time. I finally decided to start buying crypto at the start of 2021 when I stumbled upon HEX and MetaMask on Twitter. The first thing I bought was a decent bag of Dogecoin on Binance and got rekt.
Wanting to improve as an investor and have a better overview of the market, I started being active on Twitter and eventually ended up being totally immersed in the space.
How did you get into developing in the crypto space?
I started off by making free tools for the community without expecting to get paid at all. After my debut, I ended up receiving a lot of attention on Twitter and Telegram because of it. At first I didn't think much of it, but at some point projects started to take notice and asked me whether I was interested in working with them. I did these smaller gigs for a while and over time built a decent portfolio.
Which are the projects you worked for as a developer?
I've done a fair bit of smaller jobs for a lot of different projects (mostly NFTs), but the most notable are NileSwap, Digital Darwins and a few other projects I don't want to disclose yet.
💡
Learn more about NileSwap
here
.
Are there any special regulations regarding the job as a crypto developer in your country?
Not that I know of.
What would you say are the most important skills a developer in Web 3.0 should have?
A person working on back-end development needs to have a good understanding of smart contracts and the fundamentals of the blockchain they are developing on, as there are a lot of technical nuances they have to take into account. For front-end developers, the most important skill is the ability to make the user interface work well with the back-end to make it as interactive and good to look at as possible.
💡
Learn more about Smart Contracts
here
.
Which programming languages should a developer in Web 3.0 be capable of?
It all depends on the platform you are looking to build on, but most languages used in crypto are universal. The perfect, most sought after stack is: JavaScript (frameworks like React for front-end), Rust (for back-end) and Solidity (for smart contracts).
If you know these 3 then you will have a lot of great opportunities on almost any popular blockchain. Languages like Python could be useful as well for data scraping, data models, bots or APIs.
What is it that you enjoy the most being a developer in crypto?
I enjoy meeting different people from all over the world and growing my network. There are a lot of interesting characters and personalities in this space with great ideas. Working with ambitious and skilled people is something I've always enjoyed and there's no lack of such folks here. I've met a great deal of people that I want to build together with in the near future.
Another incredible aspect of developing in crypto is that it's an alternative income source for me that I can use towards personal investments or helping out others in need. If you aren't the best trader then it's especially useful.
Are there any negative points someone be aware when becoming a developer in crypto?
Definitely, in my relatively short time of being a developer in crypto, I've already had have my fair share of unsavory experiences with some people/projects. An important thing to be mindful of, is that you should know your worth and not let others trample over you. There are a lot of individuals looking to lowball you or just waste your time.
Miscommunication is also a relevant problem in this space, which can often be a source of conflict or big delays so it's important to make sure that the task(s) in hand and details of the payment are communicated well and are clear to both parties.
Another negative aspect that might ruin the developer experience is a toxic community. Inexperienced crypto investors often have unrealistic expectations and demands from the team. Developing a working product takes time, but some people have a trouble of realizing that as they've never had any experience with it, so they express their dissatisfaction in group chats and FUD without remorse.
💡
FUD stands for 'fear, uncertainty and doubt'.
It may take a toll on some people and make them want to quit the project or become distant from the community to avoid dealing with ignorant people.
What makes a crypto developer based?
A "based dev" is a passionate developer that delivers, has a good relationship with the community, is transparent and goes out of their way to improve the project. They usually have good documentation as well.
What do people in your personal environment think of your job?
Most of my friends have a pretty neutral view of the whole thing, but lose it once NFTs are mentioned due to the stigma surrounding them (custom monkey NFTs XD).
Are there any goals you want to achieve regarding your job as a crypto developer?
Of course. My two goals are co-founding a project with my good friend and learning the aforementioned perfect development stack. To make it more difficult for myself, I want to achieve both of those goals by 25 years of age as I see myself working on crypto full-time in the future.
Would you recommend people to get into crypto development?
Absolutely. It's one of the greatest opportunities, once in a generation I'd say, with the lowest barrier of entry. You don't need an university degree or any other sort of formal education to succeed in this space, because as long as you can code and stick with it, you'll be good to go. There will always be a demand for developers, especially because most people in the space are no-coders but want to build regardless of not knowing how to, so a lot of work gets outsourced. If you love technology, are curious and want to make useful applications that have an impact on the real world, then I can't recommend it enough.
In what ways has your involvement in the crypto space impacted your life?
Without a doubt it has changed my life for the better. This magic internet money has allowed me and my family to live worry-free, leaving more time to enjoy life. What started off as a silly hobby, has ended up being one of my main sources of income. Other than that, I've made a lot of good friends along the way who I can't wait to meet one day.
Where do you see the crypto space going in the next years?
It will continue to garner popularity and become more mainstream. With the introduction of CBDCs (Central Bank Digital Currency) I'm pretty certain that in countries like Estonia, the future of fintech will be on centralized blockchains using smart contracts and oracles because the technology is already there. There will most likely be more innovation in DeFi and the space evolves as a whole due to more builders bringing new products to the market and new people getting involved. It seems like more regulatory action will be taken as well to regulate crypto in order to protect investors from lucrative schemes.