For this Vestorportal.com Spotlight edition we are happy to sit down with the amazing artist Dangiuz.
Leopoldo D'Angelo, better known by his pseudonym Dangiuz, is an Italian visual artist, digital artist and art director specializing in sci-fi themes.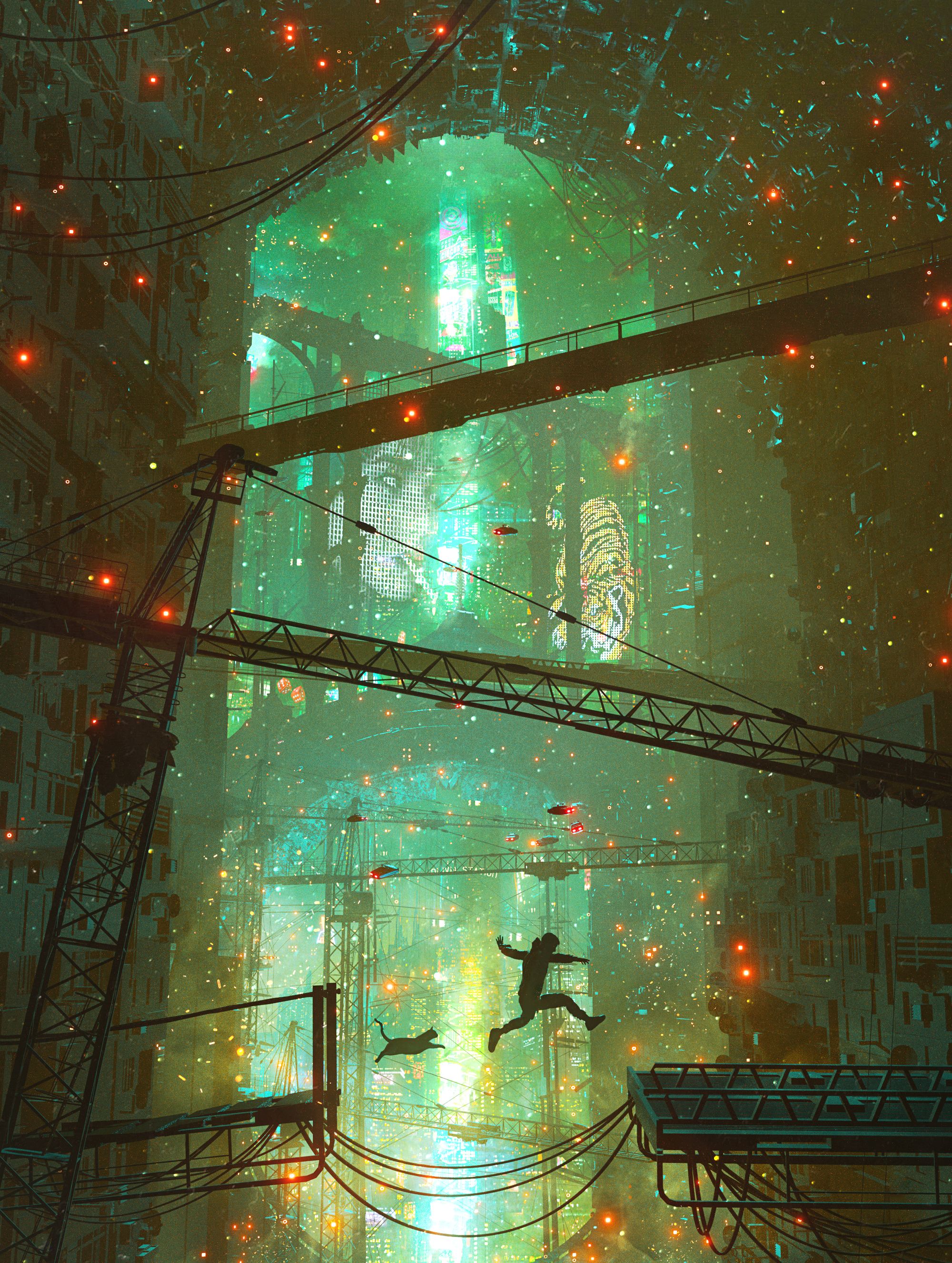 This is our first interview with an NFT artist on Vestorportal.
---
Interview
Personally, I admire and follow your work since one and half years.
How and when did you start making art, and when was Dangiuz (The Artist) born?
I started making art when I was a child. I was always passionate about drawing and creativity, so throughout the years and growing up I started experimenting and trying new programs. I graduated from a Graphic Design high school, and after some years of work as a Graphic Design studio, I decided I wanted to get into 3D and start my freelancing career as an independent artist.
How did you find your style, and what got you into cyberpunk?
I have always been passionate about the future, technology and what concerns; so I started depicting robots, cyborgs, androids and megacities, and eventually found out that I enjoyed doing cityscapes and environments more than anything else.
Do you remember the first time you heard about crypto? What was your first contact point with cryptocurrencies?
I have friends who are into Crypto from 2014, so I have known Crypto for a long time. I bought a couple of ETH in 2017 for the first time and just hodled it.
What was your reaction when you first heard of NFTs and the tons of money some NFTs have raised in sales? Did you immediately recognize the opportunity you had as an future NFT Artist?
When I first heard of the space in June 2020 the numbers and the sales weren't exactly like this, so what surprised me the most was the possibility of tokenizing the artworks and making them unique, rather than simply just "selling the work for money".
---
---
How did you sell your first NFT? Did you know you had to pay gas fees?
Yes, I was aware about how the blockchain works and about gas fees. I auctioned the piece "Grand Challenge" and about 24 hours later I accepted the bid. An unforgettable moment!
What's the biggest challenges you have faced since you started making digital art?
The biggest challenge to me is trying to reinvent myself every day but without looking too redundant and without straying too far from what my style is and from what I enjoy doing.
How did you build your community? Were you accustomed to interact with people? Or was it difficult to build your community?
I didn't really do much besides making art and sharing it, I was lucky enough to come across amazing artists, fans and collectors that like what I do and this means the world to me.
Your Artwork tells a story, for example: Lonely Road, melancholia, Love in the Cyberpunk, was it your intention to make your artworks evoke emotions and feeling in those who see them?
Certainly yes, I like to depict human emotions and I like to let them prevail and win, as if the viewer "roots" for the human, over the whole congested and urbanized inhuman cityscapes.
---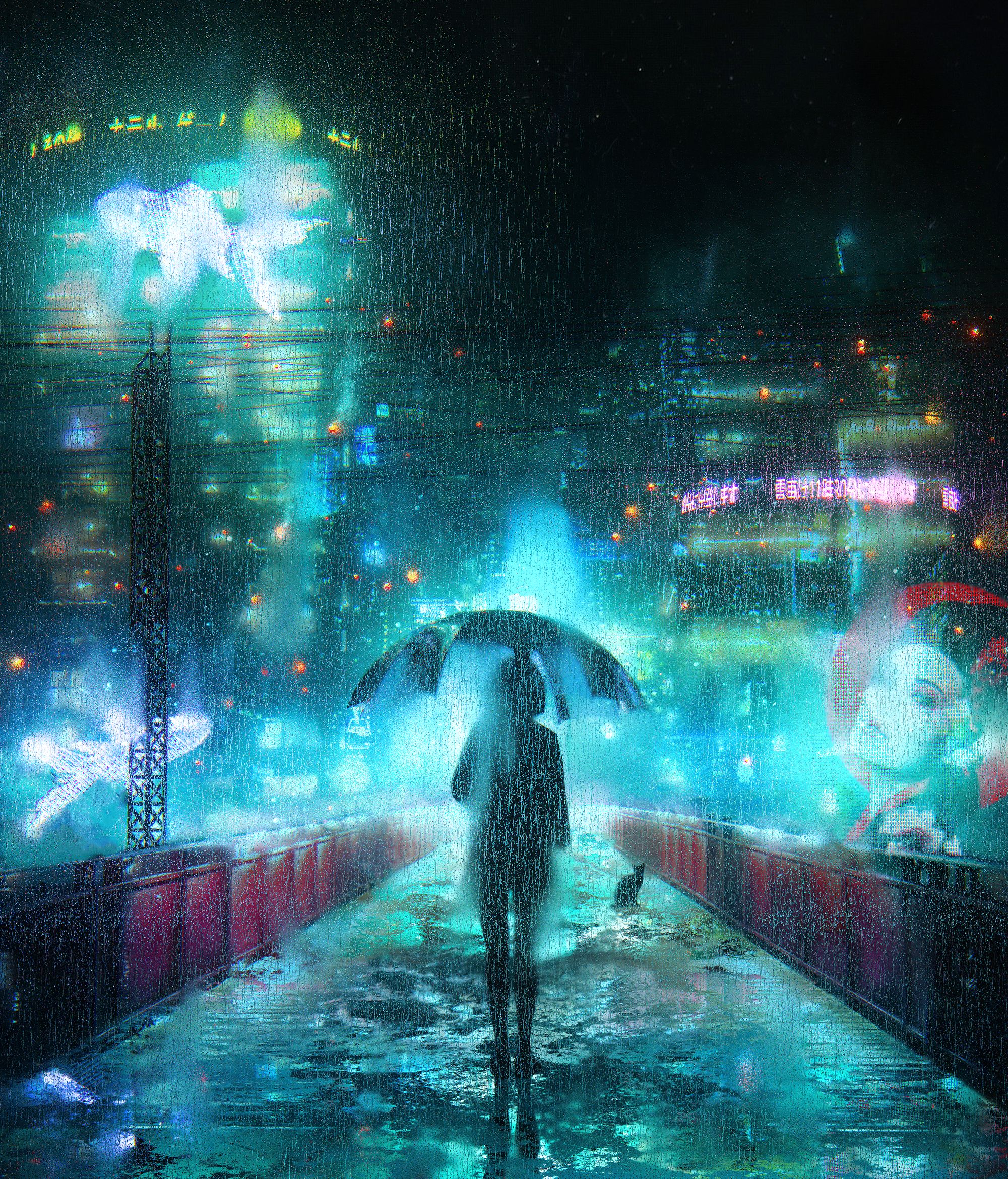 ---
What's the reason you include a cat in all your NFTs?
There is no particular reason. I love cats, and I've started featuring them in my artworks about 4 years ago and I love how they add humanity to the piece. So it has become a sort of "signature" for me.
What would be your message to those young people that want to make a living through art? And those who are thinking about entering the NFT industry?
My general advice is to find something that they genuinely love doing and to focus on their craft and niche. Art has infinite possibilities, mediums, themes, genres, so one has to be sure they want to focus on a certain craft, they have to feel they love it, with all their heart.
---
---
How are your plans for the future looking?
I hope to keep making art and improve day after day.
We appreciate your time and effort to answer these questions, thank you Dangiuz.
Collectors and those who want to see your Artwork will find the links below: