Making DeFi a Safer Place with the Verification Gold Standard - Assure DeFi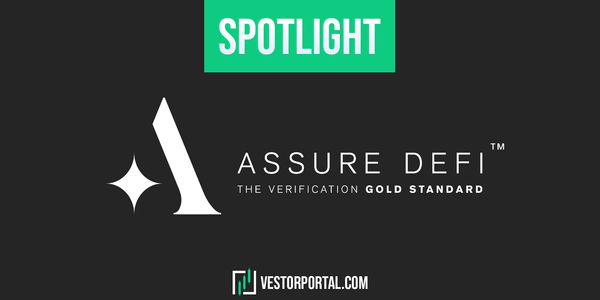 In this Vestorportal Spotlight edition we had the chance to learn more about Assure DeFi. They told us how they strive to make DeFi a better place for investors, how they work with institutions like the FBI and more.
---
Spotlight
What is Assure DeFi?
Assure DeFi is a blockchain security company which pioneered the leadership verification services market. Altcoin project founders and NFT creators rely on Assure's data integrity and anonymity promise, key tenets of the crypto culture; while its market leading Gold Standard Verification empowers investors and collectors with an unmatched accountability chain and active recourse support. A US registered LLC, Assure DeFi serves to reduce fraud and provide credibility to legitimate innovators, with a broad vision of creating a more investable blockchain.
How did the team come up with the idea to create Assure DeFi?
The concept was created in mid 2020 by its founder, Chapo. After personally being defrauded for over $100K with no recourse available and experiencing the high frequency of rugs, scams & fraud during the rise of decentralized trading on Uniswap, he set out to create a new process to reduce scams and hold bad actors accountable.  One of the biggest problems was the shield of anonymity that scammers used to dodge any accountability or legal pursuit.  By creating a system where founders can get privately verified & take legal accountability for their actions, it allows credible builders to differentiate themselves from the grifters while also preserving all the benefits of public anonymity.
How big is the team working on Assure DeFi and do people working on your team need any specific background?
The Assure DeFi team currently has ~20 team members located all over the world. The business is incorporated in the USA, but has team members located in South America, Europe, Asia & Australia.  On top of our core team, we also consider our partners, legal teams, affiliates & outside contractors part of Assure as they are a critical component to the success of the business.  We have extremely diverse backgrounds and skill sets, though all share a passion for reducing fraud & helping investors succeed in a market which is difficult to navigate.  Love for Web3 and the passion to make the space better are the only prerequisites to be considered as an Assure DeFi contributor!
Who are important partners of Assure DeFi and how do these partnerships look like?
Assure has partnerships with a number of different types of Web3 projects, businesses & agencies.  Given our goal of holding bad actors legally accountable, we consider our global law enforcement relationships top priority & of utmost importance.  We have established some great working relationships with Department of Homeland Security, FBI & IRS-CI in the USA.  We have been building additional global relationships as well & will be extending our network via a global law enforcement conference with agencies from 16 countries from around the world in a few weeks.  As law enforcement gains an understanding of how we can help them, it allows us to work hand-in-hand with these agencies to drive real consequences when fraud occurs.
Some people might say, that even with verifying projects criminal actions take place. What would you tell these people?
We compare our business model to security cameras from time to time.  Crime still occurs with security cameras in place too, right?  Does that make them worthless?
Properly identifying founders and gaining legal accountability doesn't prevent them from committing bad acts or crimes, however it does create a path of accountability.  This accountability creates a deterrence & reduction of fraud, as well as the ability to drive future legal consequences…so we see our offering as critically important for this space to thrive.
Are there any cases in which Assure DeFi made a difference after malicious actions by one of your clients?
We have published multiple Assure DeFi Investigative Intelligence Reports (ADIIR) which have allowed investors to easily file criminal reports to the correct global agencies in just minutes.
We have also successfully driven some of the top law enforcement agencies in the US to investigate an individual that verified with Assure DeFi and rugged.  Though due to confidentiality requirements we cannot share specifics with respect to the agency/division or individual case agents, we are thrilled that our process has led to real law enforcement action.  For us, this is the goal. We are winning!
Why should someone get verified with Assure DeFi?
View our pitch deck for project owners - this is our value proposition for project leaders on why they should work with us.
---
---
How does the process to get verified look like?
You can learn more about the verification process here.
What differentiates Assure DeFi from other security companies working in the blockchain niche?
How would you describe the values of Assure DeFi and its team?
A link to our Team page is shown below.  Some info about us is there.
---
---
Where do you see malicious activity within the blockchain going within the next years?
There will always be fraud and scams in this space, but as security tools get more sophisticated & as accountability becomes real…the frequency and prevalence of bad actors will be reduced.  It will take a lot more effort and creativity to pull of fraud/scams than it does today as investors get better educated and as the usage of things like Assure DeFi's verification process becomes more widespread.
What role will Assure DeFi play concerning this?
Educating investors, working with law enforcement & bringing accountability for project founders to the space.
You will be an important partner of the team of VaporDEX. Since not a small number of our readers are community members of the project building VaporDEX. How will Assure DeFi add value to the ecosystem of VaporDEX?
JRock wrote a great article about the partnership and what we plan to do together.
---
---
We plan to be fully integrated into VaporLaunch to bring a strong element of investor protection to projects who are choosing to launch through the platform.  We will also help foster success for those projects by plugging them into The Assure Network & connecting them to the resources they need to succeed.  As with any partner, co-marketing initiatives will help raise awareness/exposure for both sides.
What differentiates Assure DeFi from other KYC offerings?
There is a proliferation of cheap KYC offerings today which is polluting the market.  They have insufficient verification processes & have no back-end fraud pursuit process either, so they provide little to no real protection at all.  This is dangerous for investors as most aren't educated enough to know the difference between what we do (deep verification, robust fraud pursuit process w/ global law enforcement relationships) and what these cheap alternatives do (cheap/quick identity check with no ability to hold anyone accountable).
All KYC's are not created equal.  Assure DeFi is The Verification Gold Standard™️
The slide/image below is really small, I know (sorry) but it outlines some of the key differentiators between what we do & what our competitors are doing.  We are focused on educating the market about why they should care!