Hive Investments - Saving the bees while innovating DeFi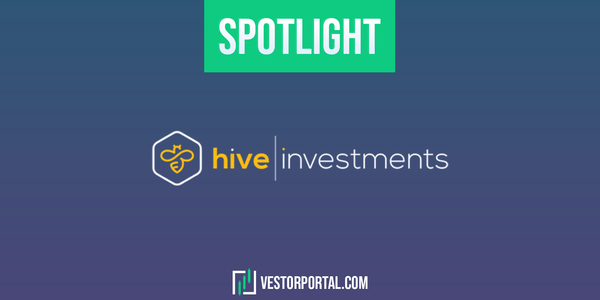 In this edition of Vestorportal.com Spotlight we once again had the chance to talk to Colin, CMO of Hive Investments. Hive Investments is a core protocol of the Union of Transparency.
Colin talks about how Hive Investments will innovate the Defi-as-a-Service space, why saving the bees is an important thing for the team, and some other exciting topics.
---
Spotlight
What is Hive Investments?
Hive investments is an innovative ecosystem and DaaS protocol. Built from the ground up to provide consistent, reasonable and SUSTAINABLE returns to NFT holders.
This is the next generation of the DaaS model, by having tokenomics properly thought out and modeled by mathematicians and by turning the classic "node" into a fully transferable NFT, creating 0 sunk costs within the protocol.
This allows people to maintain liquid positions while earning passive income by simply holding onto their NFT.
---
---
How did the team come up with the idea of Hive Investments?
The core team comes from the investment world. We all have been burned by not properly thought out and malicious projects.
From learning from the mistakes of others, the team has spent months building the "next generation" of passive income, removing all forms of "ponzinomics" and pairing the innovative fundraising mechanism of NFTs to generate revenue, which are then given back to NFT holders.
This, in addition to an entire ecosystem of utilities (announced are: Hexagon marketplace & Hive Academy) we prioritize building a long term passive income stream for NFT holders by an ever increasing ecosystem of utility behind the reward token $HNY
Who are the core members of Hive Investments and what are their tasks?
Josh - CEO - Visionary of the HIVE and ideas man and the manager of all individuals and aspects of the larger HIVE teams.
Jerry - COO - Responsible for the organization and daily operations of the hive team and ecosystem.
Colin - CMO - marketing, community growth, partnerships
Sunny - CSO - Fundamental with the strategy and rollout of HIVE ecosystem utilities and long term growth
Ethan - CIO -  responsible for investment choices, development and the technical side of HIVE.
How will the decision-making regarding changes being made to the Hive ecosystem look like?
The decisions are jointly made by the "Csuite" of the 5 core founding members.
Why did you choose to build on Polygon?
We seek to introduce more people within DeFi to new chains and help the decentralization of DeFi projects across a network of high quality blockchains.
MATIC is a fantastic chain with a ton of activity and pre-established wallets, but we feel there wasn't enough DeFi activity happening on MATIC.
We seek to solve that with HIVE being native to the MATIC chain.
---
---
What do the tokenomics of HNY look like?
You can read more about the sustainable tokenomics here.
Which utilities will the HNY token have within the Hive ecosystem?
Several, with 3 at launch. Several more are planned over Hive's organic growth.
At launch:
Treasury investments (DaaS)
Hexagon native NFT marketplace and launchpad
Hive Academy - our custom built educational curriculum.
---
---
What different kind of NFTs can investors buy from Hive Investments and what will there yields be like?
There are three tiers users can mint:
Worker bee (98%) mint chance - daily rewards: .05 $HNY (.5% a day)
Guardian (1.50%) mint chance - Daily rewards: .1 $HNY (1% a day)
Queen (.50%) mint chance 0 Daily rewards: .2 $HNY (2% a day)
What was the 'Queen Auction' and what were the results of it?
Queens auction was one of HIVE's fundraising mechanisms, achieving 2 main functions:
Raise funds for the HIVE launch LP ($4m) to promote stable launch price action
Give "whale" users an option to enter the project, while NOT taking and minting several of the fixed 40k supply. Whales can bid up to any amount and have their custom queen NFT's scale rewards to any size - leaving more NFTs to the general public to mint and not snatched up by whales. This was also the only way to guarantee a queen tier NFT, as the remaining queens can only be minted via RNG.
---
---
Why did Hive Investments decide to dedicate profits to the conservation of bees?
Many DeFi projects focus on making money (we all do!) but we feel its incredibly important to utilize the success of HIVE to help the larger bee populations.
With climate change and deforestation, we see lowering bee populations, we feel it's the duty of the HIVE to help support essential ecosystems, like global bee populations.
Breakdown of consistent charitable donations will be public and are covered in our medium.
Can you explain the Bounty System of Hive Investments?
The Bounty System is there to encourage as much community involvement within the HIVE ecosystem and reward ethical community members, testing and trying to break the systems within the protocol, so we can ensure a safe and protected hive ecosystem.
---
---
How would you describe the core values of Hive Investments?
Sustainability, reliability and transparency are HIVE's fundamental pillars of value.
---
---
When looking at all the DaaS protocols out there - why should someone invest in Hive Investments?
There are several, there are none with the scale, nor thought out and inherently sustainable tokenomics and ecosystem scale as HIVE investments.
We encourage people to read our medium posts, twitter and discord engagements. We are a firm believer in quality always.
---
---
How do you buy HNY?
Since the project of Hive Investments has NOT launched yet, it is not possible to buy Hive's native token HNY at the moment.
Make sure to follow their Twitter or join their Discord in order to stay up-to-date.
---
---
How do you buy MATIC?
One of the easiest ways of buying MATIC is by using exchanges like Kucoin, Coinbase or Binance.
If you do not want to use a centralized exchange you can use a decentralized exchange.