Hathor Network - How They Make Blockchain Easy!
Hathor Network is a layer-1 blockchain and DAG hybrid architecture developed by Hathor Labs.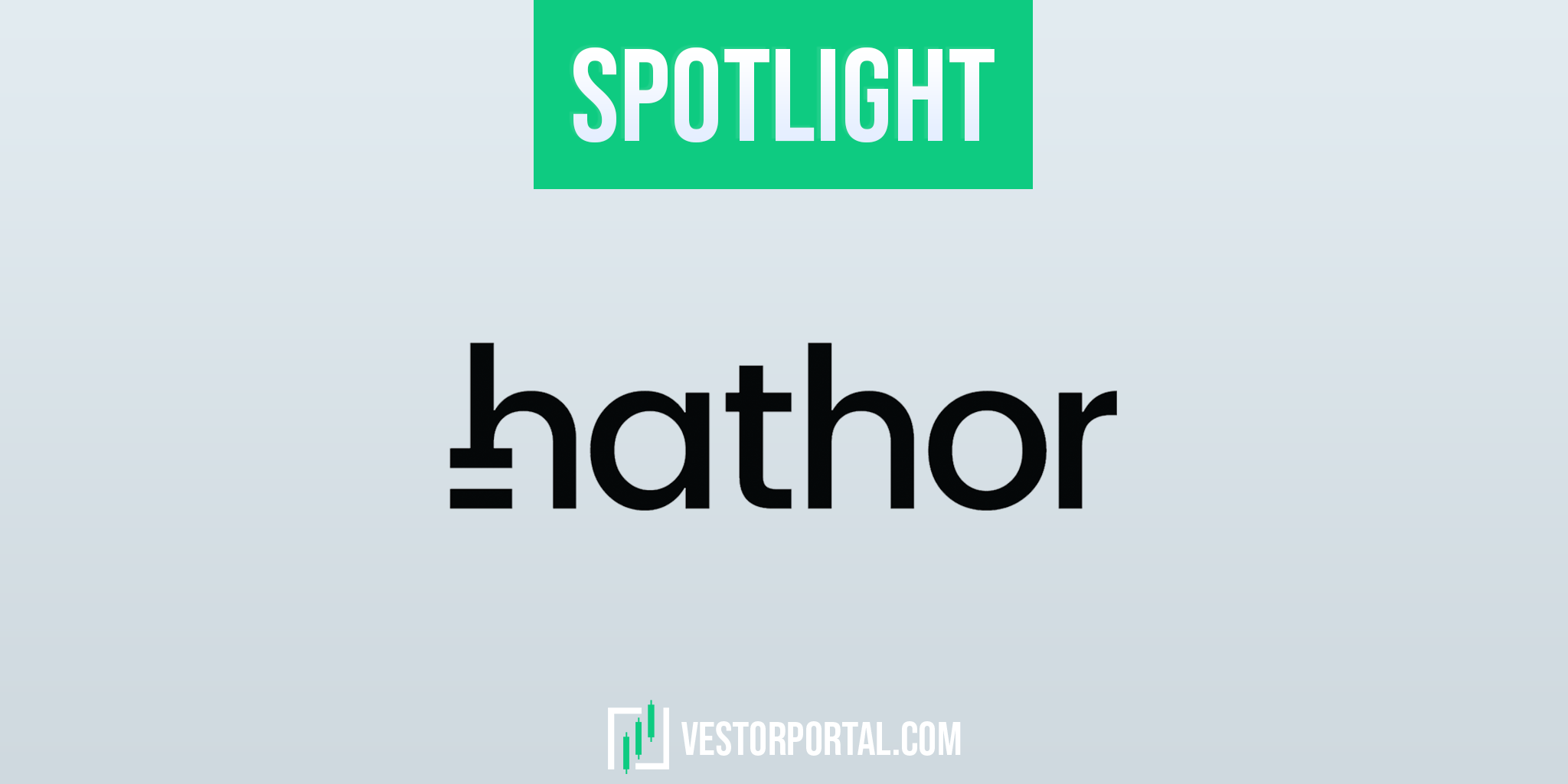 This might be the longest and most detailed Vestorportal Spotlight edition we've had until now. We had the pleasure to talk to Guto Martino about Hathor Network.
Guto, who is responsible for marketing and communication at Hathor, told us how he ended up at Hathor Network, what the vision of the team behind the project is, what the highly anticipated Nano Contracts will look like, and much more.
Enjoy.
---
Spotlight
Tell us something about yourself. Who are you and how did you get into crypto?
First, thanks a lot for the space, Julian. Much appreciated the support and care.
My name is Guto Martino, and I'm responsible for the marketing/comms from Hathor Network, where I started in November 2020, a few months before we got listed on KuCoin.
My journey in crypto started in 2016 when I was still living in Berlin.
I was a freelance marketing and event manager for some startups and conferences in the city, and I had just one or two friends looking at crypto. One of them, of course, was speculating with that funky digital currency called Bitcoin that he bought super early (for $200 a piece, if I am not wrong) and this new thing called Ethereum.
It took me that 2018/2019 bear market to learn the tech and fall in love with all the possibilities. Everyone was panicking due to ETH going down to $89 (double-digit shitcoin, as Arthur Hayes said), but I decided to find more people in Berlin who were building and doing cool stuff and get together with them.
That was when I started to work with some crypto startups, VCs, and so on, which led me to be one of the first members of the Berlin Blockchain Week, which ran parallel to dAppCon. I also joined my dears from the Department of Decentralization (former ETHBerlin) and got to know so many amazing people in the industry.
During the pandemic, I decided to move back to Brazil to stay close to my family, which led me to join Hathor Network and do other things in parallel, like giving some help to Ethereum Rio.
I'm a heavy crypto guy, but I still do not see myself as an OG. There is still so much to learn, and a month in crypto seems like a lifetime.
What is Hathor Network?
Hathor Network is a layer-1 blockchain and DAG hybrid architecture developed by Hathor Labs following their founder and CTO, Dr. Marcelo Salhab Brogliato's Ph.D. thesis in distributed systems.
Marcelo Brogliato has researched cryptocurrencies since 2011 and during his Master's and Doctoral studies in Computational Management Science. In 2017, as part of his PhD thesis, he came up with an idea for scaling blockchains, which later turned into Hathor.
So In 2014, the founders (Marcelo, Yan, Pedro, and Jan) already had multiple conversations about creating a startup to contribute to the flourishing ecosystem.
Months go by, and in the end, they decided to move forward with creating something way more significant, which is the vision of what Hathor is becoming and what it should become in the coming years.
---
---
And this is what we wanted to achieve with Hathor Network: a radically simple to use and fast network, with no fees at all, with the security and the decentralization of first and second-generation blockchains that had always inspired us, such as Bitcoin and Ethereum.
We were always fascinated by the conversations we had with each other, really happy to meet minds alike, especially when most of the mainstream was skeptical about crypto. It was inevitable that the weekly pizza and beers would become more significant to the world.
We want to make blockchain easy for everyone; our tagline is Blockchain Made Easy. We are tackling two specific problems in the blockchain industry: scalability and usability.
---
---
How did you become the Marketing Manager at Hathor Network?
I became the Marketing Manager of Hathor Network in November 2020, the same time that I was also contributing to KarmaDAO and part of the Marketing Guild of NEAR protocol.
At the time, I was part of KarmaDAO, helping with pitches for projects looking for seed or angel investments (for example, Sam Bankman-Friedman pitched Serum there).
I became friends with another Brazilian guy called Bernardo Quintão, who was one of the earliest advisors of Hathor Network and today is managing a crypto-native fund called Reset.
So Bernardo introduced me to Marcelo and the core team, and we had a great talk about what he envisioned Hathor to become.
That was when I decided that I should be part of this layer 1, and boy, what a lovely challenge it has been so far. I stopped doing everything else I was doing and joined Hathor Labs full-time.
Hathor had a super small team at the time, and I think I was member number five or six. The project had these underground vibes, and HTR was listed only on Vitex and Qtrade and sold OTC on our Discord.
Since then, we've grown to almost 20 members, and today I have four members on my team, covering B2B and Crypto communication, community, and marketing initiatives.
How did the team develop the desire to build the Hathor Network?
While thinking about what would be Hathor's architecture, Marcelo realized that there were three problems for the industry that absolutely no other chain was addressing at the time:
Blockchain is complicated, and I do not understand the tech.
Hiring a blockchain developer is too costly.
Blockchain brings me no return on investment (ROI).
These three premises were especially painful for CTOs who were not well versed in the technology and had no intention of bringing new technology to their jobs. Minimizing risks is one of the crucial skills of any manager, and blockchain could be a liability if not done right.
How big is the team building Hathor Network?
Right now, Hathor Labs has 17 full-time members plus several service providers.
We started very small with just the founders and went 3x in a year. Right now, we are planning for the next jump on hires and probably will onboard many people from 2022 onwards.
Hathor Network promises scalability and near-instant transactions.
How does this work?
Hathor Networks mixes DAG (Directed Acyclic Graph) and Blockchain intertwined and was first created with scalability and decentralization as the main points to be solved.
When Marcelo was on Crypto valley in 2018 (Zug), only one project addressed scalability, which was Avalanche. Also, that was when he decided to focus full-time on Hathor Network.
We watched where other DAG projects failed, and we came up with this new architecture: instead of using supernodes, let's merge mine with Bitcoin and use this technology to confirm the transactions from the DAG.
---
---
Many blockchains use smart contracts, and Hathor Network will implement Nano Contracts. What is the difference?
Nano Contracts are on our roadmap, and we understand the importance of bringing automation to Hathor Network.
On Hathor Labs' 2021 Annual Report, we left a piece about how our tech and product teams envision the Nano Contracts and the direction we are working now.
I see an ongoing security problem on crypto as the elephant in the room. We are under a culture of degens, apes and money go up, that people do not care anymore about these hacks we keep seeing day after day.
But that is so wrong on so many levels. We are talking about releasing a halfway audited code and asking users to deposit their money into these contracts.
Overall, this is not healthy for the ecosystem: think about Wormhole, Ronin, etc. Users lost money there.
Marcelo envisions Nano Contracts as a marketplace for contracts that one can use on applications that run on top of Hathor Network and leverages our architecture to solve something.
That also means that we will not make any single contract available, as we are not a Turing-complete blockchain. We will only allow specific contracts (called Nano Contracts) to run on top of Hathor Network, and users will be free to use them as they wish.
Remember that Hathor Network follows the Pareto Law: we want to offer 20% of the blockchain tools out there that can solve 80% of the needs of blockchain.
Many existing solutions and contracts from other chains will not be available on Hathor.
And that is fine.
What is merged mining, and why is it important for HTR?
One question I always get is, "Why is Hathor any better than project X, which is also Proof-of-Work?".
I always reply with the same question: how does Project X guarantee their use cases that the network will be running and not prone to a hostile attack from low Hashrate in 10 years?
Using Merged Mining, we ensure that our Network will be running as long as Bitcoin is, even though it comes with some trade-offs, like not selling hardware to retail or even enabling personal computers to mine.
Home mining is not profitable.
I've found out that some projects sold ASICs for retail miners and are having trouble because it is unprofitable to keep these machines up due to price action. So people now have mining equipment for those projects and have no use for it.
It is worth reading this 101 about merged mining and Hathor Network here.
Hathor Network got approved for Security Token Offerings. What does that mean for the Hathor Network?
Actually, a use case running on Hathor was approved to issue STOs in Brazil.
Tokenizadora is a product from Vortx (Brazil's largest assets-under-management investment company) and QR Capital, an early investor, and supporter of Hathor Labs.
Hathor Labs helped build the Proof-of-Concept, and we offered them support and a direct communication channel to help them bring this project out. Also, we were together during the whole process, which means we were under the scrutiny of the Comissão de Valores Mobiliários (CVM, akin to the US SEC).
But here is my personal opinion: we achieved an early-stage maturity, and now we have a use case with a market-fit product that leverages our network to solve a real-world problem.
What will the Hathor Foundation be?
Hathor Foundation is still only a plan, and we don't know when it will happen. The original idea was to create a new arm from Hathor Labs to foment and push further the development of the Hathor Network ecosystem.
The project is on hold now as we have other priorities at the moment, such as onboarding new software houses that are building on Hathor Network. As soon as some other big players do their solutions independently from Hathor Labs, we can better think about a foundation coming along.
How would you describe the core values of Hathor Network?
Technically, our tech drivers are a scalable blockchain with a killer user experience for developers.
Culturally, we are probably one of the most strict teams, and I am super proud of that. I've been in crypto for quite some time, and I have seen the good, the bad, and the ugly.
Hathor Labs has rigorous policies regarding our actions, and we stick dearly to those core values.
The crypto space is full of layer one blockchains. Why should someone choose to build on Hathor Network?
That is a fundamental question, and everyone thinking about launching a new chain should ask  themselves the same before releasing their platform. "Why am I doing it?"
Hathor Network wants to be the easiest blockchain for someone who wants to build their solution and reduce the risks. Period.
We want to deliver a fast, cheap, scalable, and, more than anything, developer-friendly blockchain to reduce the friction of use-cases that need the technology to solve a problem or create a new opportunity. We want to be the first choice of builders when they need blockchain.
We don't aim to be Turing complete and run those complex contracts on Ethereum.
We want to give this developer the 20% of the tools available so they can build their stuff most seamlessly.
After five years in this space, I've observed that most of the chains (even the ones that "compete" against Hathor) are looking to deliver a mega-complex blockchain, which is faster and cheaper than Ethereum.
And I keep seeing projects betting on the "faster, cheaper, with more features" than X or Y. But I saw only two projects other than Hathor is betting on reducing the barriers for developers.
So, here's my question for them: do you think devs will choose any other chain other than Ethereum once it scales? Your project will probably eat dust.
Hathor is not competing against Ethereum, and we don't even want to go in that direction. There are hundreds of projects slapping each other for liquidity and devs. Right now, if someone is unhappy with the fees on Ethereum, you just port your solution to another EVM chain.
Ethereum will scale. There are loads of scalability solutions Optimistic Rollups, ZKSynch/Snarks, Arbitrum, etc. The merge, even though delayed, will happen either this year or the next. The platform is the king of smart contracts, and it is okay.
We don't want to position Hathor as a "faster, cheaper" solution than Ethereum. We want to be a more accessible and frictionless experience for developers, creators, software houses, and businesses that do not need that complexity from Ethereum.
I bet my coins that we will see a lot of ghost chains out there in two-three years from now. And I´m talking about our so-called "competitors".
---
---
Where do you see the crypto space and Hathor Network going in the coming years?
Regulations are coming on a raging horse. I think the days of the Wild West for crypto are coming to an end as we know it, as many institutional players are joining the space, and there is a need to have more clarity on what happens behind the scenes.
There are a lot of talks regarding KYC'd wallets, etc. I think we will have interesting times ahead, especially with governments and their CBDCs pushing regulations against stablecoins, algocoins, or whatever.
Regarding Hathor, I believe that we are well-positioned to become the Blockchain Made Easy that we preach.
As a product-based company, Hathor Labs wants to build as many tools as needed so that those newcomers can start building their solutions on the Network in the shortest time possible, and we will work in this direction as long as it takes to be the first choice for them.
---
How do you buy HTR?
One of the easiest ways of buying HTR is by using centralized exchanges like KuCoin, Gate.io or AscendEX.
If you do not want to use a centralized exchange you can use HathorSwap, which is the first decentralized exchange (DEX) on Hathor.
Furthermore, you can buy HTR without an exchange. The following Twitter thread explains how: