Sky Mavis Collaborates with Google Cloud to Bolster the Security of Ronin network
Axie Infinity Creator, Sky Mavis has entered into an agreement with Web 2 tech giant, Google Cloud in a bid to accelerate the growth and security of its blockchain network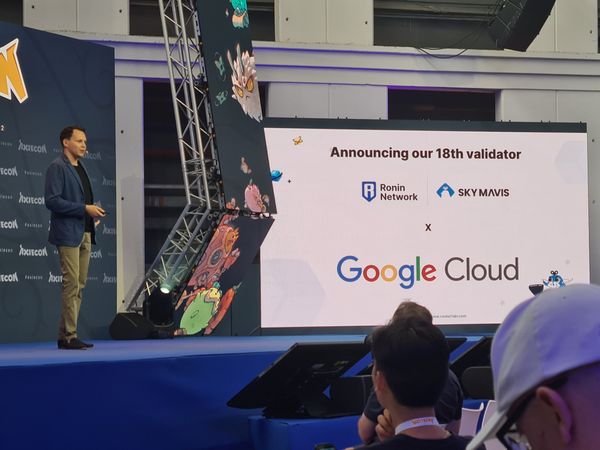 In a clear commitment to building a secure and sustainable gaming economy, Axie infinity blockchain game Creator, Sky Mavis has entered an agreement with Google Cloud to bolster the security of the Ronin chain by becoming an independent node validator.
The crypto industry is not a stranger to hacking incidents. Some learn from their shortcomings and go on to recovery while others are like the proverbial child that stumbles and falls, forging ahead without having a good look at the obstacle that caused him to bruise his knees.
Axie Infinity's Ronin was attacked in March in one of the largest Defi heists of all time, resulting in losses estimated to be more than $600 million.
The collaboration with Google Cloud is part of Sky Mavis' efforts to improve the security and scalability of the network and ultimately, avert the recurrence of the Ronin hack.
The Ronin network was launched in 2021 using the Ethereum virtual machine (EVM) designed with improved levels of scalability, thereby allowing millions of in-game microtransactions.
Google Cloud will become the 18th independent validator node tasked with monitoring validator uptimes and contributing to the collective security of the Blockchain. The validator pool includes firms like Web3 gaming guild startup Yield Guild Games, blockchain analytics firms Nansen and DappRadar, and game publisher Animoca Brands.
Sky Mavis seeks to reach a total of at least 21 validators to further decentralize the network and make it difficult to compromise. Ronin Blockchain network consisted of 9 validator nodes before the heist and has since increased to 18 nodes.
Viet Anh Ho, the co-founder and chief training officer of Sky Mavis explained that one of the reasons for the collaboration with Google Cloud is the autoscaling and automated application deployment capabilities offered by Google's Kubernetes Engine (GKE):
These free up our engineers to break new ground and delight users with interrelated and immersive experiences – all without disrupting active gameplay.
Sky Mavis's latest announcement has restored a significant measure of confidence to the Axie gaming community. Google Cloud's vast technical expertise in Blockchain infrastructure will provide the needed support for Axie infinity to strengthen its defences and make a full recovery
Axie Infinity is a play-to-earn blockchain game where players collect and trade digital pets represented by NFTS. These creatures can be bred and battled against one another within the game for rewards. The game has yielded more than $4 billion worth of NFT sales to date.