Centralized and Decentralized Exchanges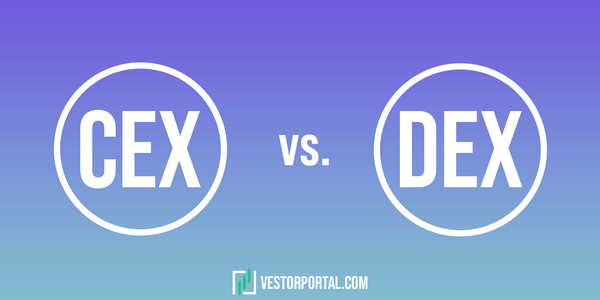 Since the rise of cryptocurrencies within the last years people are learning of a secure and trustful way to manage their funds. To trade cryptocurrencies investors have to interact with crypto exchanges to perform buying and selling of their cryptocurrencies. In fact, crypto exchanges play a vital role in the development of the blockchain industry.
A crypto exchange offers market participants to trade, buy and sell cryptocurrencies instantly. Usually, crypto exchanges support numerous different cryptocurrencies. Crypto exchanges are used by millions of users day by day.
Centralized Exchange (CEX)
Centralized Exchanges can be easily compared to traditional banks. They are owned by centralized institutions and follow rules and regulations. Centralized exchanges offer a wide range of investment products but are also exposed to several risk such as:
A CEX can be easily hacked which can result in a total loss of user's funds
CEXs are directly impacted by the imposed laws of the countries they operate in
Furthermore, it is important to note that centralized exchanges hold custody over user funds. This means they are in charge of what happens with your funds and in the worst case it is easy for them to seize assets.
The most popular centralized exchanges are companies such as Binance, Coinbase and KuCoin. Read more here.
Decentralized Exchange (DEX)
Decentralized Exchanges are peer-to-peer marketplaces where user can trade, buy and sell a wide range of cryptocurrencies. When using a DEX people do not have to hand over management of their funds to an intermediary or any custodian. Transactions on DEXs are facilitated through the use of smart contracts.
Initially, the concept of decentralized exchanges was full of flaws. But ongoing innovations, such as automated market makers, helped to attract millions of individuals to use decentralized exchanges.
There are several advantages for users of any DEX:
token availability
anonymity
reduced security risks
reduced counterparty risk
But of course there are disadvantages as well, such as:
higher barrier to enter compared to a CEX
smart contract vulnerabilities
unvetted token listings
As of February 2022 the biggest decentralized exchanges are:
Curve (CRV) on Ethereum
Uniswap (UNI) on Ethereum
PancakeSwap (CAKE) on the Binance Smart Chain
SushiSwap (SUSHI) on Ethereum
Balancer (BAL) on Ethereum, Polygon and Arbitrum
Conclusion
Crypto exchanges play a crucial role within the crypto space. While DEXs are a vital point regarding the success of DeFi, CEXs offer lots of comfort for new traders. While most centralized exchanges operate cross-chain DEXs operate on only one chain most of the time. People who only use decentralized exchanges should be aware of the possibility of bridging assets from one chain to another.
We endorse every reader to do their own due diligence on the advantages and disadvantages when it comes to deciding to use a CEX or a DEX.