How to bridge coins from Ethereum to the Binance Smart Chain?
The Binance Smart Chain is one of the best networks regarding liquidity and investment opportunities. In this article we will explain how you can transfer ETH or other ERC-20 Tokens from Ethereum to the BSC using the Celer cBridge (recommend by Binance).
Using the Celer cBridge offers the following benefits:
Deep liquidity with larger transfer support
Simplicity
Native gas token unwrapping: e.g. transfer WETH from BSC to unwrapped ETH on Arbitrum
Supports many tokens and chains
Choose your wallet
You have to click on 'Connect Wallet' in the upper right corner and then decide which wallet you are going to use. The Celer cBridge supports MetaMask, the Coinbase Wallet and WalletConnect.
Note: Currently, there is a bug in the MetaMask mobile app that affects bridge transaction. If you choose to bridge via MetaMask this is only possible on a desktop device.
Connect your wallet
In this case we connected with our MetaMask wallet via desktop. Make sure you are connected to the right network. While you should have installed both networks (Ethereum & BSC) in your MetaMask wallet, the selected network has to be the outgoing network. Since we want to bridge from the Ethereum Blockchain to the BSC, the selected network is Ethereum Mainnet.
Select source and destination chains
Choose from 'Ethereum Mainnet' to 'BSC'.
Select the token you want to bridge
Select the token you want to bridge from the dropdown. Then enter the amount you want to bridge of the chosen token. Also make sure you have enough funds to cover the gas fees.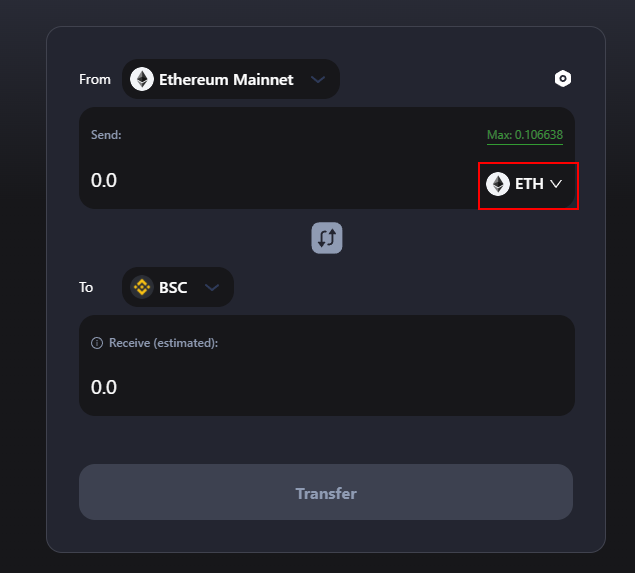 Adjust the slippage tolerance
Adjust the slippage tolerance if required. Your transfer may fail if you choose a very low slippage tolerance. To do this click on the settings symbol.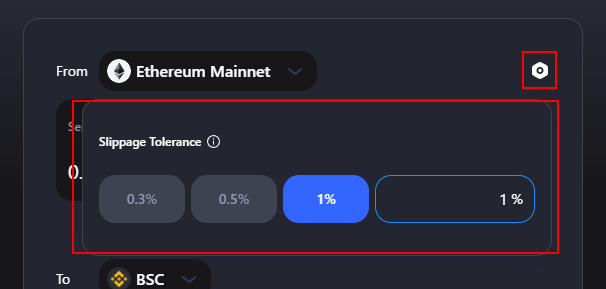 Review the transaction details
Before confirming the transaction by clicking 'Transfer' make sure to check the transaction details such as the bridge rate and fee payable to liquidity providers and Celer stakers.
Click on transfer and wait for the transaction to complete. The transaction has to be validated on Ethereum and also on the BSC (happens automated). Wait for the transaction to confirm and for your funds to arrive on your destination.
Once the transaction is complete, you will have the tokens on the Binance Smart Chain.
How do you convert ETH to BNB?
The easiest way of converting ETH to BNB is to use a centralized exchange like Kucoin, Coinbase or Binance.
If you do not want to use a centralized exchange you can use a bridge to get your funds from Ethereum to BSC.
The transaction fee on a centralized exchange could be less than the Ethereum gas fee on the bridge route if you already have your ETH on the exchange.