Are NFTs luxury assets?
20 years ago, luxury cars, expensive yachts and watches were signs of wealth, but now there is a new competitor between all of these luxury assets.
Could you believe that a pixelated and computer animated image was bought $23 million?
That's not an normal image but CryptoPunk #5822 which is an so-called NFT (Non fungible token).
An NFT is a digital asset that represents real world objects like:
Art (images, oil-, watercolor- or charcoal-paintings) digital and traditional
3d Art
AI (artificial intelligence)
Music and photography
Tweets (Yes, Twitter co-founder Jack Dorsey sold his first ever tweet as an NFT for more than $2.9 million.)
They are bought and sold online, using cryptocurrencies, on NFT market platforms. The biggest ones are: Opensea, Foundation, Super rare, Magic Eden.
NFTs are built using the same kind of programming as cryptocurrencies, like Bitcoin or Ethereum. But NFTs are different, because the term "Non Fungible" means that the assets can't be exchanged for an equal or another asset directly.
As in traditional art markets, those who buy NFTs are named "Collectors" because instead of an oil painting of Picasso, collectors get a digital file, that they can hold for as long as they want. The owner can also sell their NFT on any NFT market platform, already mentioned above.
When and how did NFTs become a thing?
On May 3rd, 2014, digital artist Kevin McCoy minted the first-known NFT called 'Quantum' on the Namecoin blockchain. 'Quantum' is a digital image of a pixelated octagon that hypnotically changes colour and pulsates in a manner reminiscent of an octopus.
Currently, the biggest and highest valued collections according to Opensea are: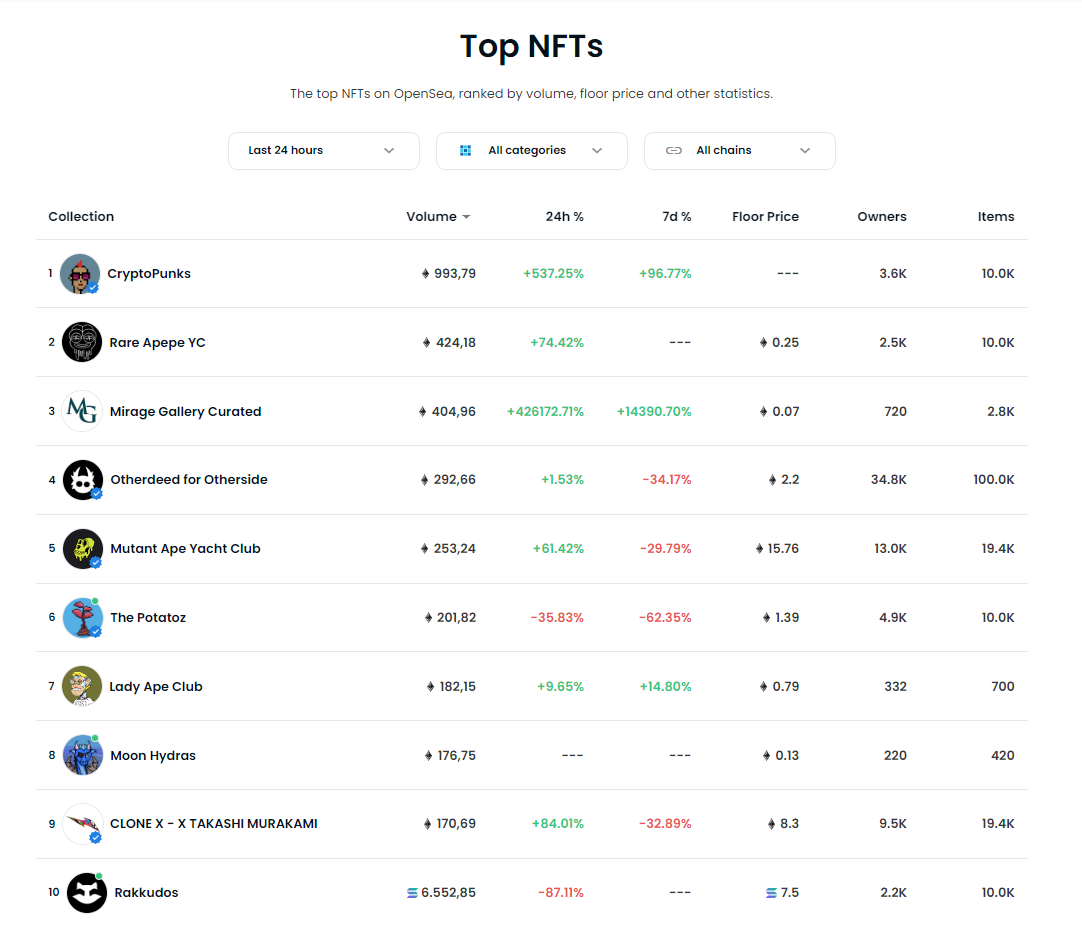 Among all of them, there is one that could be considered as the pioneer of the NFT movement:
CryptoPunks are considered as some of the first NFTs created and are nowadays part of one of the most important collections in the history, some of the reasons could be:
Two decades ago the enthusiasts of the CryptoPunks dreamed of the beginning of Web3, in this way Punks represent a movement and the beginning of a new era.
Punks were created when one Ether was valued at $200.
Only few people anticipated the future value of NFTs.
The first pixelart NFTs are still copied or homages are created, almost 5 years later.
Nowadays, we can find around 100 projects who are derivatives of the pixelart of the CryptoPunks.
As pioneers in the space they didn't find competition.
The developers of CryptoPunks generated avatars used algorithms to generate 10,000 of them, all of them are unique.
Taking all these arguments under consideration, it is not difficult to see why NFTs are so valuable. Let's compare others assets:
There might be millions of people who own a Rolex worldwide.At the moment, Rolex are producing around 500,000 pieces a year or more, and Rolex themselves have been producing watches since 1915, so the supply is increasing by hundred of thousands per year, while CryptoPunks, and many other NFTs and cryptocurrencies have a limited supply.
The NFT industry is only 8 years old, its impact on society is just starting.