5 Strategies Employed By Crypto Scammers To Steal Your Cryptocurrency
Cryptocurrency scammers are capitalising on the gullibility, greed and carelessness of inexperienced crypto users, making them major targets of phishing scams.
Over the years, Twitter has become the base of operations for the burgeoning crypto community — to connect, squabble and acquiesce — in all matters relating to the rapidly evolving world of cryptocurrency. This platform is popular among Crypto enthusiasts or as they are often called "noobs" who are seeking to take advantage of the soaring prices of this digital coins.
An African proverb says, " Those who want rain must also accept the mud." As the cryptocurrency economy boomed and incredible fortunes were being made in so little time, crypto scammers stepped out of the shadows and the siege began. The Chainalysis' cybercrimes research lead Eric Jardine explained that further escalation of crypto scams can be attributed to the rise of decentralized finance (DeFi) applications that skyrocketed in 2021.
What was supposed to be a financial miracle quickly became an horrendous nightmare for inexperienced retail investors, as crypto scammers launched a vicious onslaught of crypto scams in a bid to gain access to their Crypto wallets.
‌
The Architecture Of Twitter Crypto Scams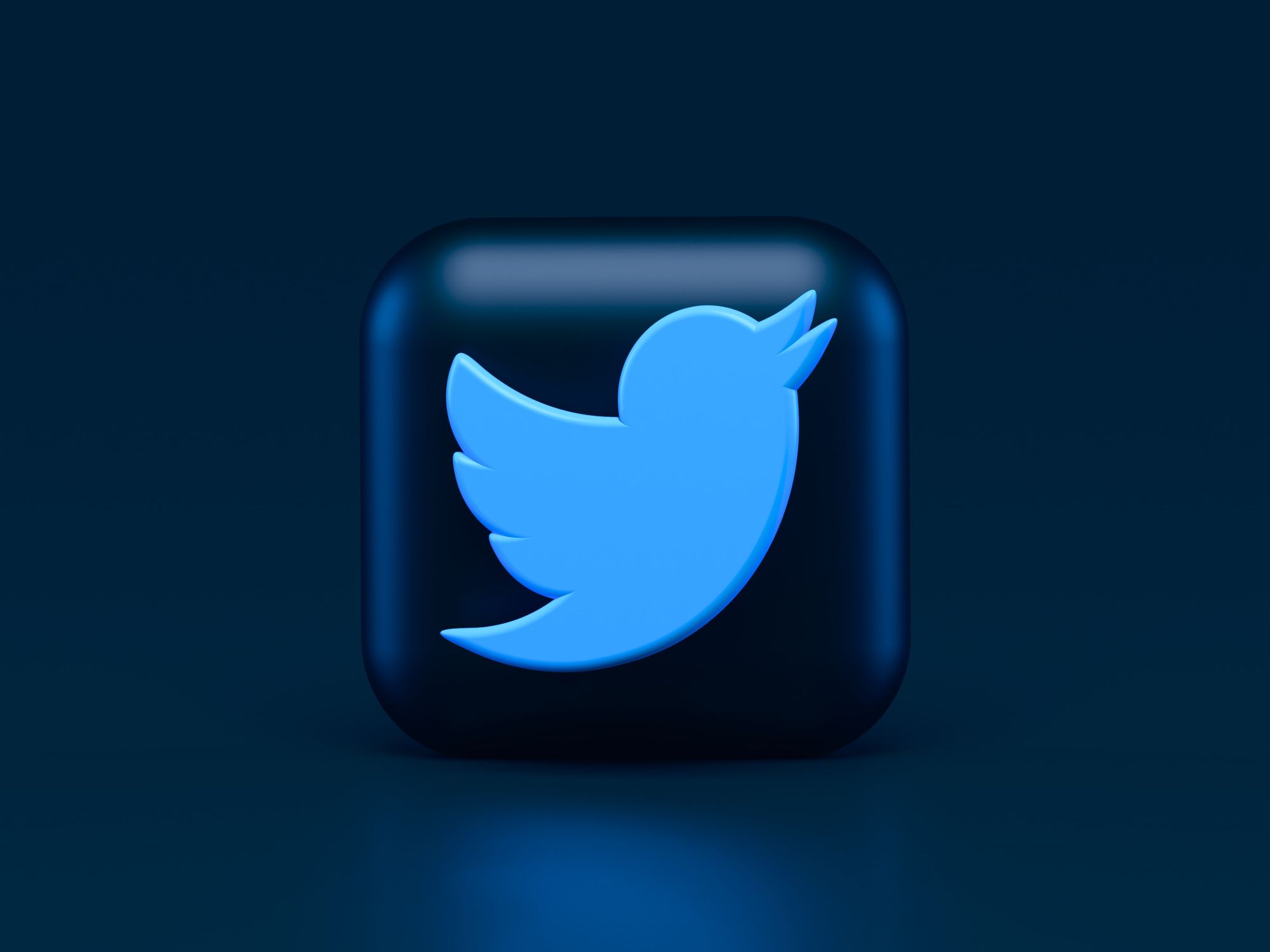 Twitter, the social media behemoth, has become a thriving business hub for crypto scammers. In the wake of the explosive growth of decentralized finance (DEFI) applications, a plethora of scam artists have invaded the Twitter space in what seemed like a clandestine operation, targeting inexperienced, greedy, and careless crypto users through the use of website spoofing, hijacked verified accounts, honeypot attacks, impersonation of support accounts and fake NFT mints and giveaways.
One of the worrisome techniques deployed by scam artists involves spoofing URL otherwise known as homoglyph phishing attacks using unicode characters. A copycat of an original URL can be created by replacing one of the letters with a unicode homoglyph, making it difficult for crypto enthusiasts to distinguish between fraudulent sites and trustworthy websites.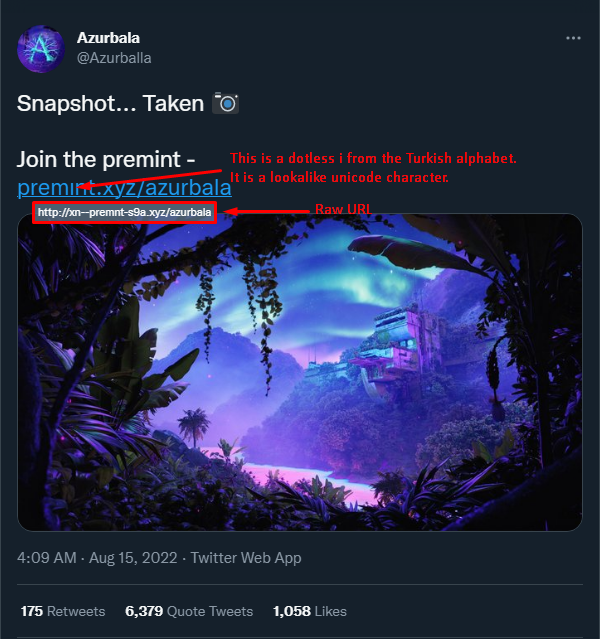 According to a research conducted by bleepingComputer, scam artists also masquerade as imposter support agents in a bid to lure unsuspecting enthusiasts into visiting specific links from which the attacker can drain their crypto wallets. Several spambots also leave automated replies to tweets with suspicious links to giveaway scams that enables them compromise the victims cryptocurrency wallet and ultimately, steal their crypto assets.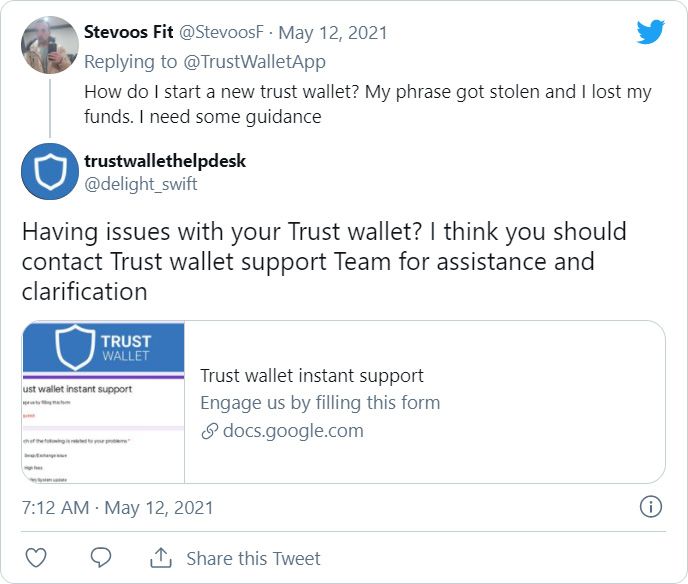 Another technique employed by cyber criminals to perpetrate scams is known as honeypot attacks. The legendary whitehat hacker and YouTuber, Marcus Hutchins, explained in a tweet how scam artists pose like an ignoramus while soliciting for help in withdrawing money and then sends you their private key. The wallet contains an amount ≤ $1000 but without a gas fee to process the transaction. If someone deposits the required gas fee needed to withdraw the money, a bot forwards deposited amount to the scammers address.
‌‌Similarly,  Satnam Narang, a staff research engineer at the cybersecurity firm Tenable Inc. reported that crypto scammers use hijacked verified accounts to lure users into dubious airdrops and fake mints. Airdrops are one of the most fascinating aspects for new entrants in the crypto industry. However, the curious blend of naivety and appetence for airdrops has made new entrants potential targets of crypto scammers seeking to relieve them of their crypto wallets. As soon as the phishing links are clicked and users grant access to their crypto wallets, the damage is permanent.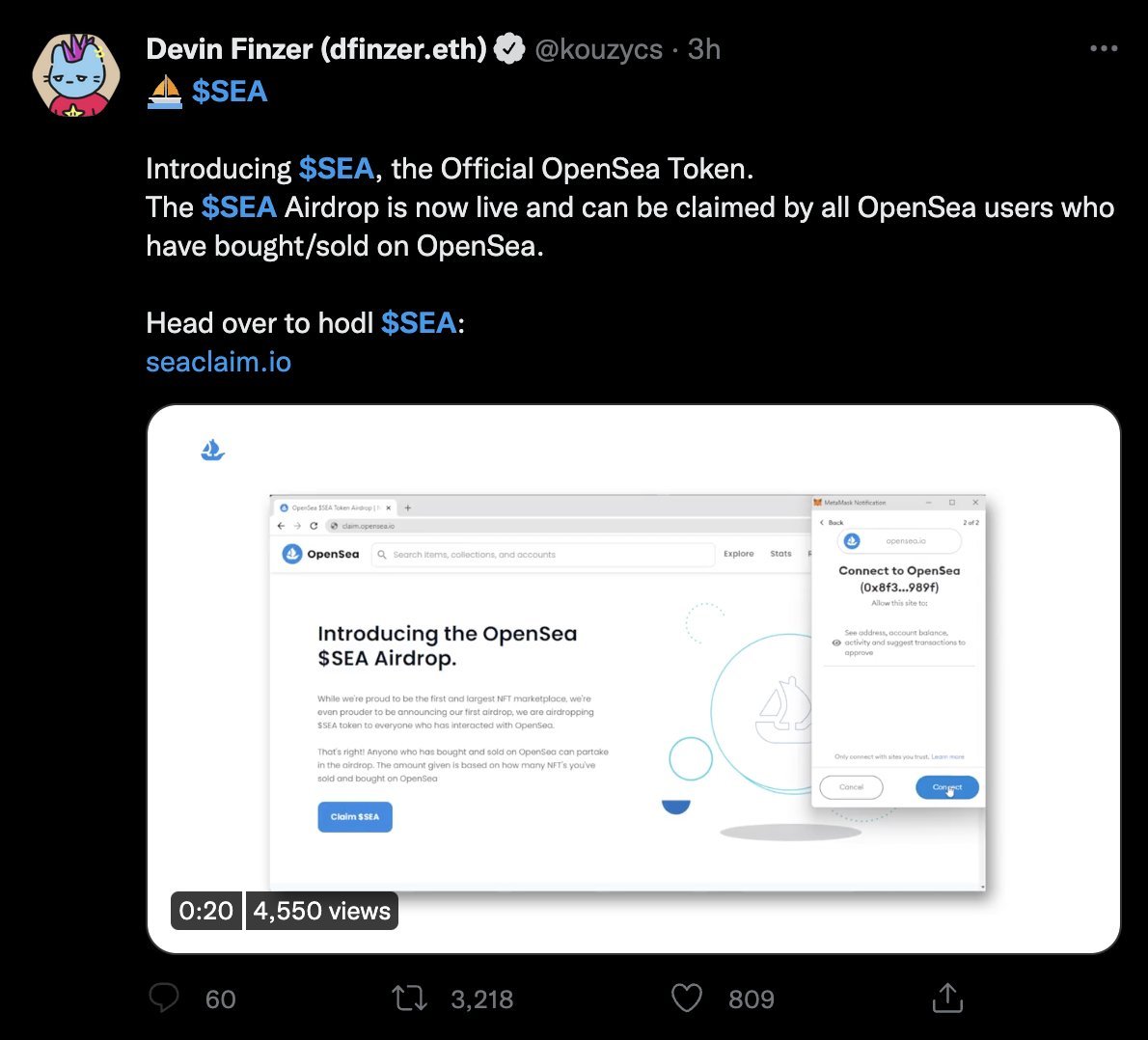 The screenshot above shows a hijacked verified account impersonating an official of the popular NFT marketplace Opensea. A fake $SEA token airdrop was posted in a bid to lure unsuspecting victims to interact with the malicious smart contract that would inevitably drain their crypto wallets.
‌Avarice is a universal passion which operates at all times, at all places and upon all persons— but, users must be wary of engaging suspicious links with the hopes of getting free money. Such hope is soon laid to dust when attackers seize control of a victims cryptocurrency wallet and drain his funds — afterall, a fool and his money are soon parted. New Chainalysis data reveals that the total cryptocurrency scam revenue for 2022 currently sits at $1.6 billion so far. Crypto scam artists are still at large and they will stop at nothing until your wallet is compromised.